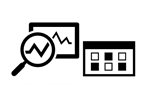 In the modern business world, the underlying infrastructure and maintenance of the ICT systems has to be  invisible to the end user and the business. The underlying infrastructure just needs to work and be scalable as needed.
To make this happen, quality support is required, and for some businesses it can be hard to justify having that level of skills available in house full time.
At Resilient Asia Pacific, we can fill in the skills gaps in your organisation. We provide proactive systems monitoring and support services to ensure your systems are proactively maintained to prevent outages,  predict performance peaks and deal with unexpected issues such as power and telecommunications disruptions.
Our Managed services (cloud and on site) include:
Server and storage management
Problem and incident resolution
Performance monitoring
Patch and PTF management
Operating System upgrades
Managed Backup services
Disaster recovery services
IBM i application maintenance
IBM i application modernisation
Our managed services also include regular client account management reviews and periodic managed service reporting.
When you partner with Resilient Asia Pacific to provide your IT Support and Operations, you can be assured of complete, streamlined and effective management of your IT services. This leaves you free to concentrate on your core business, whilst we take care of your IT infrastructure.